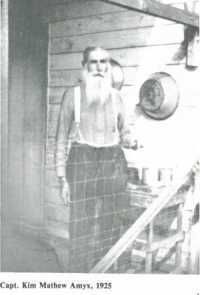 Late in the summer of 1841 a group of families left Marion County, Kentucky, in three ox and horse drawn wagons led by Captain Kim Amyx. Their destination would require some 500 miles and six months of challenging travel. They were searching the unknown for a new life in the virgin wilderness of the Ozarks, and would end their journey near present day Hodgson Mill.

It is reported that members of this wagon train, along with other previous settlers, set about to establish a new community known as Rockbridge. The original town and mill site was located near the confluence of Spring Creek and Bryant Creek. It was the county seat of Ozark County, and encompassed what today is three separate counties: Douglas, Howell, and Ozark. After a few short years, the town and mill were destroyed by fire during a civil war battle.

In 1868, B.V. Morris rebuilt the original mill on its present day location. The Mill's reconstruction was followed by the reinstatement of the post office, a general store, Masonic Lodge, bank, church, school, blacksmith shop, and a large farm house, known today as the White House. The village of Rockbridge was a gathering place for people from the countryside. A trip to the mill was a great occasion, enabling people to visit old friends and neighbors, to get their meal and flour, to utilize the post office, to vote on Election Day, and to get news of the outside world.